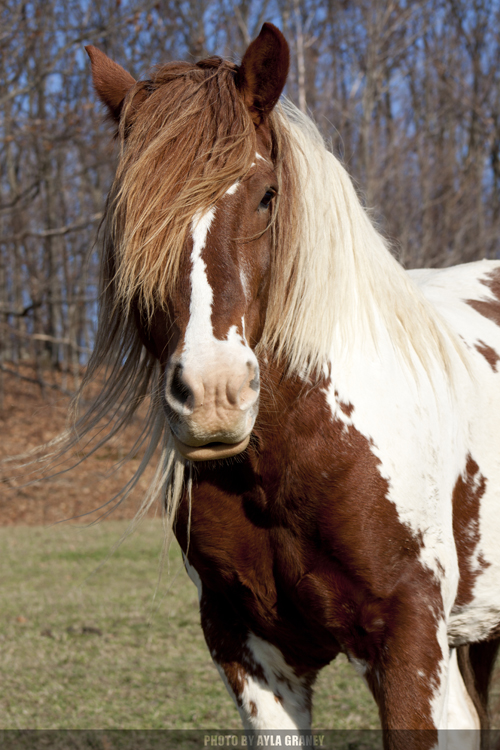 Lakota's Farm is home to five rescue horses and four carriage horses. Several of the drafts work on the carriages for Saratoga Horse and Carriage Co. Our horses live in a free range herd, living like horses were meant to. This means the horses pick and choose what they eat from our lush pastures or which tree to laze under. They have free access to water, hay and shelter at all times. We are pleased to introduce you to each of the members of our herd family here.
Our Rescues
Lakota: A breathtaking chestnut and white paint draft horse for whom the farm was named. In spite of what he went through in his life he is one of the silliest, funniest, most curious sweet boys we have. Lakota is also quite the ladies man, he is protective and quite the flirt, he is especially sweet on Kayla. Lakota is an incredibly sensitive horse. He has learned to accept affection and loves being close to us. He forgave mankind for the cruelties done to him and opened his heart up to accept the love we had to offer. The magnitude of that effort and gesture was not lost on us.
In naming our farm, Lakota's Farm, we honor his spirit and remind ourselves daily of rewards that can come from opening your heart.
Teton: A massive Chestnut Belgian gelding standing 18 hands tall, he was named after the Grand Teton Mountains.Teton is Poppa's boy, while Kimberly calls him a pest! Teton came from our neighbor along with Fastback - his friend. Our neighbor inherited them when the person boarding them disappeared. Initially we doted on both horses from a distance in our neighbor's field. As often happens with horses, we forged a strong connection and in a matter of months took ownership of the boys.
Little Missy: Starina By Design is a registered Saddlebred, this chestnut-colored baby girl, is the smallest horse in our herd. By far the sweetest little girl but also a silly nuisance. Little Missy wants to get into the middle of everything and see just what you're doing, She loves nothing better than to give kisses and lick the ears of the nearest, and usually unsuspecting humans!
Othello: Lakota's baby brother, Othello was also removed from the same abusive situation. At first a very tentative boy. Othello is a regal, striking black and white paint draft horse. He is a little serious -especially when it comes to his true love Annie. Othello would like nothing more than to climb into your back pocket to be with you. He is the most gentle, loving, kind boy- a true gentleman. When you gaze into his eyes, he lovingly looks back at you with a kind eye and forever a little boy.
These two brothers have been together since Othello's birth. Sadly Othello passed away in 2016.
Fastback: A lovely grey Arabian/Mustang gelding. Fastback's name is a reference to his half-mustang heritage with a nod to the classic car. He is much smaller and sleek compared to the others, tips the scale at just 800 pounds. Fastback loves to antagonize anyone he can, but also manages to get along with every horse in the herd. We think he may be running for Mayor! Like Teton, Fastback came to us via our neighbor.
Teton and Fastback- we lovingly call fraternal twins, have a great love for each other and are bonded., They have been together now for 14 years and will live together on our farm forever.
When we purchased the carriage business in 2011, we were fortunate enough also to receive with it three of the most incredible Black Percheron's we have ever been fortunate enough to know. They have now been together for 13 years and are always there for each other. All four of our carriage and our rescue horses will spend the rest of their lives living as a happy healthy herd on Lakota's Farm.
Kayla: She is the strongest, smartest mare we have ever known. Kayla is a prideful, gorgeous black Percheron and is happiest when she is working. Steady and loyal, she is our go-to horse for the most challenging of venues and settings. In addition to earning our respect, she's earned the respect of the rest of the herd who always give way to her when she is coming through. Lakota has somehow made his way through her tough exterior and into her heart.
Conway: Unlike Kayla, Conway would be happy to simply graze all day and would be even happier if we brought his meals to him rather than asking him to come to the barn. Also a black Percheron, Conway is distinguished by his beautiful spiral-curled mane and his very calm sweet nature, he is slow and steady at most anything he does. When you think of a horse that has been there done that, it would be Any of our horses, especially Conway.
JD: Our Baraat Ghodi. I would dare say JD is one of the most beautiful horses in the herd, his insides match his outside. JD is a gorgeous white horse with a most amenable nature. Having spent two years as part of the children's program at Shelburne Farms, JD is happiest to endure lots of attention, handling, and picture taking. Despite his mighty size, he gets our vote for "Most Likely to try Up and Curl Up on the Couch with You If it was Big Enough."
Jd & Conway are 10 years apart in age and are Kimberly's very favorite team together. They adore each other and act like they have been together their entire lives
Gus: Our original Baraat Ghodi, Gus was gentle and kind. He was completely at home with banging drums and parades of people. Sadly , he fell ill last year and we lost him. Although we lost Gus in the summer of 2014, his spirit remains a strong presence on the farm.
Call us 518.677-3140
to reserve your date
Our Gus will always be in our hearts